Aberrant Spectre Guide OSRS
Aberrant Spectres are enemies in the game "Old School RuneScape" (OSRS), belonging to the Slayer skill. They are malevolent specters emitting toxic damage and can weaken the player's statistics. They are valuable for skill training and offer drops like high-level herbs and rare seeds. Players need to prepare with equipment and potions to successfully face them.
Aberrant Spectres are often designated as a slayer assignment accessible at 60 Slayer and 65 combat levels from different slayer masters. Utilizing a nose peg or slayer helmet is essential for combating these creatures. The salve amulet(ei) grants an advantage against their undead nature; however, it's important to note that the bonuses from the slayer helmet and the amulet don't combine. Using the Protect from Magic prayer is advised when facing Aberrant Spectres.
Note: With Bigger and Badder you have the chance that a stronger version spawn
---
Stats
---
Locations
Slayer Tower (1st floor)
Stronghold Slayer Cave
---
Equimanet Recommended
Range Equipment
Melee Equipment
Note: If you don't have a Slayer Helmet, use a Noise Peg
Inventory:
Cannon and Cannon balls (if you are in Stronghold Slayer Cave)
Some food
A lot Prayer Potions
Teleport House
Combat Potions for Melee
Rangin Potions for Range
---
Strategy
They utilize Magic for their attacks, making the Protect from Magic prayer beneficial,Wearing a Salve amulet or Salve amulet (e) grants extra damage and accuracy against these undead creatures. Note that the bonus from the salve amulet won't stack with a slayer helmet or black mask; when both are worn, only the salve amulet's effect applies. However, players should still equip their slayer helmet or nose peg to shield against Aberrant Spectre's harsh damage and debuffs.
It's worth mentioning that a dwarf multicannon can be used within the Stronghold Slayer Cave for quicker slayer experience.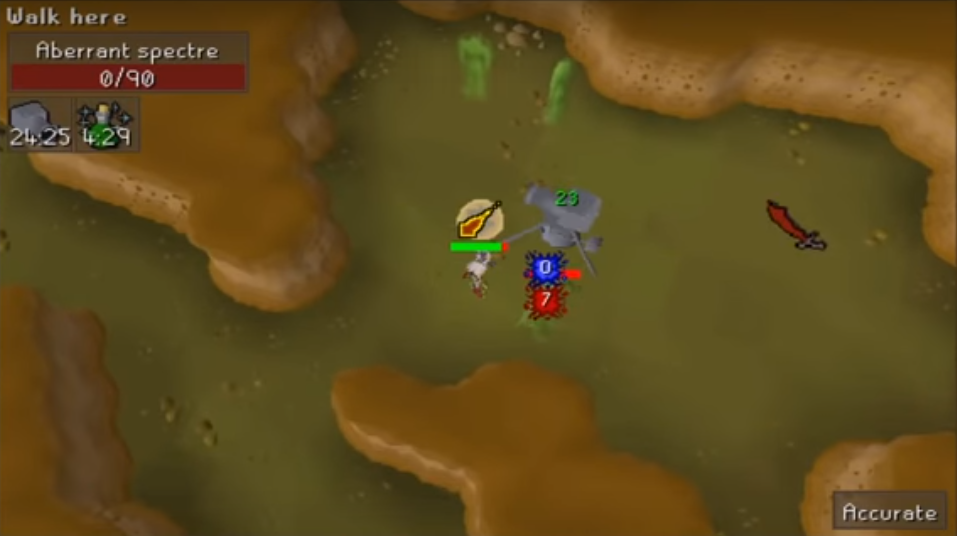 For those seeking to safespot, standing on the brick pile west of the Agility chain shortcut in the Slayer Tower while luring spectres in front of the suit of armor can be effective. A crossbow's rapid attack style from this vantage point can target aberrant spectres, making it a handy tactic. Alternatively, players can wait out the 10-minute hostility period with minimal risk by hiding beside the table in the north-west corner. While sporadic attacks might occur, they will be infrequent. This method works well in conjunction with the safespotting/trapping process.
Another option is to safespot one of the aberrant spectres using the south-eastern corner of the wall in the staircase room.
In the Stronghold Slayer Cave, they can be safespotted around a section of the cave wall in the middle of the eastern part of the dungeon.
It's important to note that these safespots are only effective with Ranged or Magic attacks, as there needs to be a minimum of six spaces between the player and the aberrant spectre to avoid their attack range. Halberds and thrown weapons such as throwing knives and axes lack the necessary attack range for safespotting. Additionally, these safespots are viable only when the spectres are non-aggressive, as nearby spectres will engage the player and hinder their efforts to eliminate the trapped spectre.
---
Abhorrent spectre
The abhorrent specter is a superior variant of the normal aberrant specter. It has a 1/200 chance of spawning upon killing an aberrant specter if the player has unlocked Bigger and Badder for 150 Slayer reward points from any Slayer master.
---
The Deviant Spectres
There is a variant of these creatures known as the Deviant Spectre. However, engaging with Deviant Spectres might prove to be a challenging endeavor. These creatures exhibit remarkably high defense attributes, making encounters quite laborious and time-consuming. As a result, many adventurers tend to find battling Deviant Spectres less favorable due to their extended combat duration and increased difficulty in dealing damage effectively. It's advisable for players to assess their combat capabilities and gear before deciding to take on this particular variant.
Locations
Catacombs of Kourend