Onyxia Guide Wrath of the Lich King Classic
Welcome, adventurers, to the Onyxia's Lair guide in World of Warcraft: Wrath of the Lich King Classic (WotLK Classic)! Here, you will find all the necessary information to successfully face one of Azeroth's most iconic challenges: the legendary encounter with the mighty Onyxia!
Delve into the depths of this mythical lair and prepare yourself to confront the majestic black dragon. Our guide will provide you with strategies, tips, and tactics to overcome this fearsome foe and reap fabulous rewards.
Remember, Onyxia is a symbol of World of Warcraft, and her lair is one of the first and most memorable raids that players can experience. So get ready to embark on an exciting adventure full of action and challenges!
Without further ado, let's move forward together towards victory and uncover the secrets that lie within Onyxia's Lair in WotLK Classic! May the gods of Azeroth guide us and may our swords rise victorious. Onward, brave heroes!
---
Introduction
This iconic raid was remade to commemorate World of Warcraft's 5-year anniversary. The updated version of the encounter closely mirrors its level 60 predecessor, with minimal changes to its mechanics.
One significant improvement is the removal of the attunement requirement. In the past, players had to complete a complex quest chain to gain access to the raid. Now, with the attunement gone, anyone can enter Onyxia's Lair and take on the formidable dragon without any hindrance.
Prepare to relive the timeless challenge of facing Onyxia, as you venture forth into this legendary lair and embrace the nostalgia of this classic encounter.
Boss Strategy
The battle unfolds in three distinctive phases, each posing its own challenges:
Ground Phase (100%-66% HP): At the start of the encounter, Onyxia remains grounded. During this phase, she unleashes her fury upon players with her deadly attacks and abilities. Tanking and positioning are crucial as you engage her in combat on solid ground.
Air Phase (65%-41% HP): As Onyxia's health dwindles to 65%, she takes to the skies, triggering the Air Phase. During this stage, players must adapt to the dragon's aerial assaults. Ranged players will be in their element, while melee classes may need to deal with her Lair Guards who join the fray, keeping them occupied while Onyxia remains out of reach.
Ground Phase + Bellowing Roar (40%-0% HP): As Onyxia reaches 40% health, she descends back to the ground, initiating the final phase of the encounter. Beware of her powerful Bellowing Roar ability, which inflicts devastating damage to all nearby players. Swiftly execute your strategies and focus your attacks to overcome this critical phase and emerge victorious.
Phase 1 - Ground Phase: As you engage Onyxia, it's essential to follow your tank and position yourselves at the back of her cave. This strategic move will allow you to utilize the walls to prevent being thrown away by her powerful Wing Buffet ability, which deals approximately 30k physical damage and knocks players up to 150 yards away every 20-30 seconds.
While she may not pose a significant threat to tanks with her slow 2-second swing timer, Onyxia's melee attacks still deal around 18k physical damage on average. Her Cleave ability, which occurs every 5 seconds, adds to the danger, dealing 120% of her melee damage to anyone in front of her. Additionally, her frontal Flame Breath can hit for approximately 30k fire damage every 15-20 seconds. So, it is crucial to avoid being in front of Onyxia unless you are the designated tank.
However, don't assume that positioning yourself behind Onyxia is entirely safe either. She frequently uses Tail Sweep every 15-20 seconds, dealing about 13k physical damage in a generous cone behind her and knocking players 150 yards away. If you find yourself too close to her back and get hit by the Tail Sweep, you might accidentally trigger an onslaught of Onyxian Whelps from her eggs.
Work closely with your tank to ensure Onyxia is dragged to the back of the cave. Your raid should position itself on one of her flanks, safely out of reach of her frontal and rear cone attacks. By following these tactics and coordinating effectively, you can successfully navigate the challenges of Phase 1 and set the stage for a triumphant encounter with the formidable black dragon.
Phase 2 - Air Phase: As Onyxia's health reaches 65%, she will retreat to the entrance of her nest and take to the skies. During this Air Phase, she becomes immune to melee attacks and can only be damaged by ranged attacks. Your objective is to reduce her health to 40%, which will force her to land and proceed to the final phase of the encounter.
Upon taking flight, Onyxia will release a wave of Onyxian Whelps, with 10 spawning from each side (20 in total). While not overly dangerous, the whelps can still pose a threat to cloth-wearing characters, dealing around 3k physical damage each. It is crucial for the tank to gather them all together and swiftly eliminate them with area-of-effect attacks.
Throughout the air phase, Onyxia will shoot Fireballs at the player with the highest threat. Each Fireball deals approximately 7.5k fire damage to its target and any players within 8 yards. As her threat table resets upon taking flight, her focus will likely shift to a healer or a ranged DPS. Players must quickly identify the targeted player and move away from them to avoid being hit by the Fireball's splash damage.
Approximately every minute during the air phase, Onyxia will prepare her iconic Breath ability. A raid warning will alert you, saying "Onyxia takes in a deep breath..." as she begins a 5-second casting process. She will then unleash a massive cone of fire, burning every target in front of her. Keep an eye on her direction by adjusting your camera angle and quickly move out of the way, towards the sides of the cave.
While Deep Breath's damage is not an instant one-shot, it can still deal significant fire damage for every second spent within the cone. If you get hit by more than the tail end of the breath's hitbox as you run away, you are likely to take substantial damage. Hence, be vigilant and react swiftly to avoid being caught in its fiery path.
Successfully navigating through Phase 2 is essential to bring Onyxia closer to defeat. Stay coordinated, communicate effectively, and dodge those Fireballs and Deep Breaths to secure a triumphant return to the ground phase.
Onyxian Whelp
Onyxian Lair Guard: In this updated level 80 version of the Onyxia encounter, the Onyxian Lair Guards are a new addition during the air phase. Their primary role is to keep your tanks and melee DPS occupied while they are unable to reach Onyxia in the skies.
The Onyxian Lair Guards deal approximately ~10k physical damage with their melee attacks to tanks, but they pose a significant threat to damage dealers, nearly one-shotting them. Melee players should exercise caution with their threat when these guards spawn.
Shortly after spawning, the Onyxian Lair Guards will use Ignite Weapon, which adds an extra 25k fire damage to each of their melee attacks for the next 10 seconds. This fire damage also splashes to any player within 5 yards of the tank, making it crucial for melee players to position themselves at the back of each guard to avoid unnecessary damage. While the tank's damage intake should be manageable, Warriors or Rogues can instantly dispel the Ignite Weapon buff by disarming the guards.
If the Onyxian Lair Guards stay alive long enough, they may also cast Blast Nova, dealing around ~25k fire damage to every player within 15 yards after a 5-second cast. Fortunately, the long cast time provides ample opportunity to move out of the ability's range, and considering resistances, it likely won't be lethal. However, it is still essential to be aware of their positioning and the potential risk it poses.
Handling the Onyxian Lair Guards effectively during the air phase is crucial to the success of the encounter. Melee players should be cautious of their threat, prioritize positioning, and be prepared to disarm the guards if needed. By staying vigilant and coordinated, your raid can manage these added challenges and continue the fight towards victory.
Onyxian Lair Guard
Phase 3 - Ground Phase with a twist: Phase 3 commences when Onyxia's health drops to 40%. She will land in her current location and introduce a new ability: Bellowing Roar. After a 1.5-second cast, the Bellowing Roar will fear every player for 3 seconds, causing them to run in random directions. As a result, fiery eruptions will shoot from the cracks in the cave floor, dealing approximately 7.5k damage to players running uncontrollably into them. Onyxia will use this new mechanic every ~15 seconds for the remainder of the fight.
Bellowing Roar poses several risks during the encounter. The tank could be feared towards the raid just as Onyxia casts Cleave or Flame Breath, which could potentially one-shot a significant portion of the raid. Additionally, individual players might be sent running in fear in front of Onyxia, putting them at risk of being killed by those same lethal abilities.
It's important to note that Bellowing Roar is a physical fear that cannot be dispelled, but it can be broken by fear immunities, such as Will to Survive, Will of the Forsaken, Berserker Rage, Recklessness, Tremor Totem, and Fear Ward.
One of the significant changes in this updated encounter is that Onyxia can now be taunted as phase 3 begins. This allows the tank to immediately reposition the dragon back to the same location as in phase 1, preventing the unfortunate demise of warlocks and healers.
Meanwhile, the raid should swiftly reposition themselves on the same flank to avoid the frontal and rear cones of Cleave, Flame Breath, and Tail Sweep. Coordination and communication are key during this phase to ensure the safety of the raid and the success of the battle.
With this new twist in Phase 3, the encounter demands even more skill and precision from your raid team.
Onyxia Abilities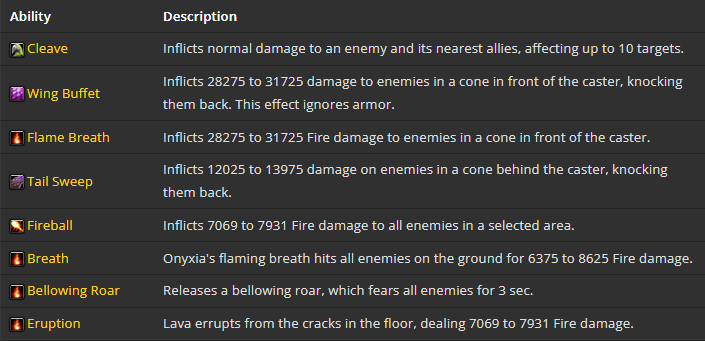 Recommended Tips:
For tanks taking on Onyxia, here are some essential tips to ensure a smooth encounter:
Stay in Range: While Onyxia's damage output may not be significant, be mindful not to outrange your healers when initially moving the boss. Maintaining proximity to your healers allows them to support you efficiently and keep you topped off during the encounter.
Utilize the Wall: Make use of the wall at the back of the cave to prevent being thrown away by Onyxia's powerful Wing Buffet ability. Position yourself in a way that allows you to benefit from the wall's protection, ensuring you remain in control of the fight.
Timely Taunts: As phase 3 begins and Onyxia lands, ensure you promptly Taunt her to regain aggro. This prevents her from quickly targeting and potentially eliminating casters before they have a chance to respond. Securing aggro swiftly is critical to maintaining control and protecting your raid members.
For melee players facing Onyxia, here are some crucial tips to ensure your success in the encounter:
Positioning: Stay on the same side as the ranged players. This allows you to maximize your damage output while avoiding unnecessary risks from Onyxia's abilities.
Mind the Hitbox: Be cautious of Onyxia's Cleave and Flame Breath attacks. These abilities originate from the center of her hitbox, so avoid standing directly inside her model. Position yourself strategically to minimize damage taken.
Onyxian Lair Guards: Exercise patience when dealing with the Onyxian Lair Guards. Never charge at them before the tank does, as their powerful attacks can quickly one-shot you. Let the tank establish aggro first before engaging them.
For ranged players taking on Onyxia, here are some essential tips to maximize your effectiveness in the encounter:
Secure Safe Positioning: Prioritize finding a safe position on the flank before initiating any actions. Avoid standing too close to Onyxia's tail, as you don't want to be sent flying by her Tail Sweep when you stop to cast your spells. Finding a secure spot ensures you can maintain a steady damage output without unnecessary interruptions.
Regroup with Your Tank in Phase 2: During the transition to Phase 2, make sure to regroup with your tank. This is crucial for efficiently dealing with the Onyxian Whelps. Coordinate with your tank and other raid members to quickly eliminate the whelps in a powerful AoE fest, ensuring your group's safety.
Focus on Onyxia in Phase 2: During Phase 2, your main focus should be on bringing Onyxia's health down to 40%. It's best to ignore the Onyxian Lair Guards during this phase and prioritize dealing damage to the dragon herself. By staying focused and working together as a team, you can swiftly progress through this critical phase of the encounter.
For healers attending the Onyxia encounter, here are some essential tips to excel in keeping your team alive:
Stay Close to the Tank: During the initial positioning of Onyxia, make sure not to get too far from the tank. Keeping a reasonable distance ensures you can promptly respond to any sudden damage the tank may take. Effective communication with the tank is essential to maintain your healing support.
Secure Safe Positioning: Prioritize finding a safe position on the flank before taking any actions. Avoid standing too close to Onyxia's tail to prevent getting knocked back by her Tail Sweep when you stop to cast your healing spells. Finding a secure spot allows you to maintain a steady healing output without interruptions.
Handle Aggro from Whelps: In Phase 2, if you happen to gain aggro from stray Onyxian Whelps, run towards the melee group. The melee players' cleave attacks can help you quickly dispatch the whelps and reduce the threat they pose to you.
---
Gear Loot Drops from Onyxia in Onyxia's Lair
10-Player
25 Player
OTHER LOOT DROPS
Mount
Onyxia drops the Reins of the Onyxian Drake. This mount is a very fast flying mount.
Bag
Onyxia drops 1 22-slot bag, the
Enlarged Onyxia Hide Backpack. This is unique equipped, meaning that, theoretically each member of your raid can win one eventually since is of no use to those who have already won it.
Bag of Gems
Onyxia drops 1
Ashen Sack of Gems. This bag contains 1 to 3 gems, which can be any of the following:
Cardinal Ruby
King's Amber
Ametrine
Dreadstone
Eye of Zul
Majestic Zircon
Scale of Onyxia
Onyxia can be skinned by players with the Skinning Profession. When skinned she has a chance to drop 1 to 4
Scale of Onyxia which is a mat for the
Onyxia Scale Cloak. In order to skin Onyxia, your Skinning needs to be at 315. The following will boots your skinning:
Pip's Skinner
Zulian Slicer
Formula: Enchant Gloves – Skinning
And In Onyxia's Lair, there is a quest item that awaits the victorious raid member who is fortunate enough to obtain it. Upon defeating Onyxia, her head becomes a sought-after loot item, and only one head drops per raid. This means that only a single raid member can be the proud recipient of this coveted prize.
Receiving Onyxia's head marks the beginning of the quest, which offers a unique and rewarding experience for the fortunate player who claims it. Both Horde and Alliance factions have their respective versions of the quest, providing different storyline paths for each.
---
Conclusion
And with that, we conclude our epic guide to Onyxia's Lair in World of Warcraft: Wrath of the Lich King Classic! We hope this guide has provided you with all the necessary information to face the challenges that await in the lair of the mighty Onyxia.
Remember, this legendary black dragon is an iconic symbol of World of Warcraft, and her lair is a treasure trove of experiences and rewards for all the brave adventurers daring to confront her.
May our tips, strategies, and tactics guide you to victory in every encounter with Onyxia! With courage and perseverance, you are destined to triumph and achieve glory in your battle against this formidable foe.
Best of luck in your quest for glory, and may your feats in Onyxia's Lair be remembered in the annals of Azeroth's history! Until next time, brave heroes!